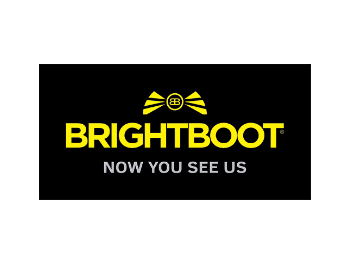 ABOUT BRIGHTBOOT
Brightboot delivers a world first in combining safety footwear protection with compliant high visibility performance.
Historically the emphasis on PPE in the footwear category has focused totally on the protection of the wearer's foot, which has undoubtedly reduced the amount of foot injuries. However, little or nothing has been done to increase the visibility of safety footwear, until now.
Brightboot – are UK based specialist manufacturers and wholesalers of innovative high visibility safety waterproof safety boots. Brightboot delivers a world first in combining safety footwear protection with high visibility performance. Brightboot conform to the EN ISO 20345, S5 HI CI HRO SRA footwear safety standard, whilst the neoprene upper and 3M retro reflective elements comply to EN ISO 20471:2013 high visibility standard. All bright boots are 100% waterproof.
Brightboot provides a compliant waterproof safety boot, combined with compliant hi – visibility materials, suitable for many industry sectors from construction to mining. Brightboot employs innovative thinking to offer measurable differentiation and benefits, unlike any other product on the market. Including 360-degree hi-visibility in low light, daylight and at night, as well as in adverse weather conditions. The boots are ergonomically designed to support and fit snuggly around the ankle and achilles.
The most common cause of injury is being hit by a moving vehicle, therefore anything that helps to increase visibility in the workplace, merits implementation, Brightboot is the solution.
Founder, Marcus Aldred said, "The pre launch interest in the Brightboot range has been exceptional. There is a genuine industry acceptance that the uniqueness of Brightboot will deliver higher combined levels of visibility & safety on site".
Brightboot, the world's first high visibility safety workwear boot for men and women.